When Apple first launched the App Store in mid July 2008, few of us anticipated how significantly apps would impact the daily lives of most people.
Initially an expensive luxury item, smartphones have since become ubiquitous thanks to a large range of affordable devices catering for all market segments, driving adoption across the globe.
Thailand is no exception, with low-cost models even available in your nearest 7-Eleven store. In fact Thailand has been a leader in mobile adoption, recognised as the the no.1 mobile-first market in the world in Google's 2015 Consumer Barometer Study.
Over the past decade the App Store has witnessed 170+ billion downloads, totaling over $130 billion in global user spend.
To celebrate this 10-year anniversary, leading mobile agency Appsynth has taken a look at Thailand's top apps of all time, and the reasons why these apps in particular have become staple features on millions of mobile devices across the Kingdom.
The chart is based on total install volumes of non-game apps by Thai publishers, compiled by App Annie, the global leader in app analytics and app market data.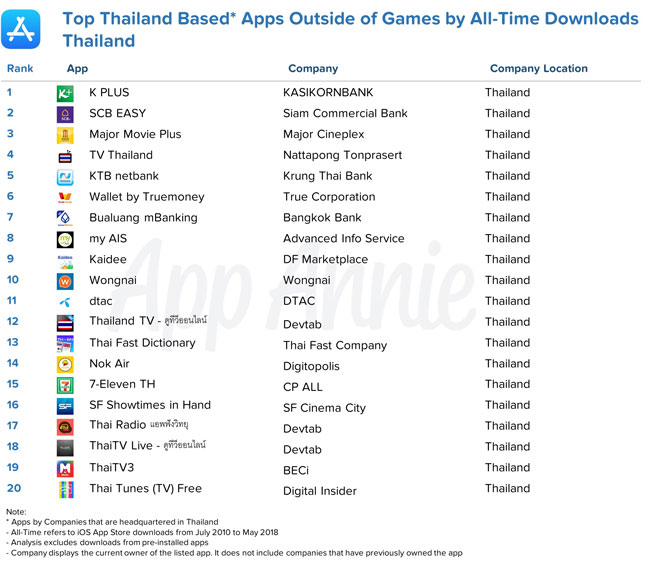 The list represents a diverse split of industry that provides a lens into modern life: from the decades-old obsession with TV to the progression towards a cashless society, through to retail loyalty and local restaurant discovery, mobile apps have, and continue to, shape the way Thais live.
The banking industry occupies four places out of the top seven apps. While one might expect banks to enjoy high download numbers given their large existing customer bases, this dominance reflects how heavily many Thai banks are investing in digital platforms.
Most countries do not see banking apps dominating install rankings so significantly, making this a unique characteristic of the Thai market. As a result, 56% of Thais now report using mobile banking.
In many global markets, incumbent banks are losing market share to digital-first challenger banks and fintech startups seeking to disrupt banking and financial service industries. For example alternative mobile payment options such as preloading money to a digital wallet make it possible for consumers to cut out the banking system entirely.
Thai banks have done well to reinforce their positions, providing platforms for collaboration rather than competition with promising fintech startups in the form of accelerator programs, while heavily investing in their own mobile channels.
As a result of this continued investment, Kasikornbank and SCB occupy the top two spots on the list.
Building something that's specifically designed for a mobile lifestyle is what really sets K PLUS apart in this industry. K PLUS' strategy is aimed at creating new user experiences with personalization features where all financial needs of customers can be fulfilled on a single device, delivering both functional and emotional benefits. Making K PLUS relevant to consumers' daily digital lifestyles is KBank's commitment, with more to come in the next year. (Patchara Samalapa, President of KASIKORNBANK)
SCB also sees personalisation as a key element to achieving high customer satisfaction, with mobile playing a central role in delivering an effective omni-channel experience:
SCB EASY reshapes the landscape of SCB's retail banking – breaking down channel silos and connecting the physical to digital experience. SCB EASY's success is a testament to the bank's effort to make the customer journey personalized and seamless, because we realize that customers do not think in terms of channels – rather, we let them consume services where, when and how they want them. (Tana Pothikamjorn, first senior vice president, digital banking division at SCB)
"Alternative banking" is also hot on the heels of traditional banks. TrueMoney Wallet (in 6th place) enables its users to make in-store purchases, scan and pay bills and top up phone credit, amongst other things. What's more, you don't need a bank account to use the app. TrueMoney Wallet can be auto-topped up when connected to a bank account, or can be manually topped up with cash – enabling digital money transactions for the unbanked population.
In 4th place sits the only app on the list created by an independent developer, Nattapong Tonprasert. TV Thailand has unsurprisingly been a massive hit with users across the nation. The app provides access to Thai drama series, cartoons and music videos, enabling Thais to have their favorite TV shows at their fingertips, anytime, anywhere.
51% of Thais report watching video on their smartphone daily and 81% at least once per week, so it's no surprise that streaming video is well represented on the list, with 4 different apps featured.
The ThaiTV3 app, now branded as Mello, is the only one of these directly published by a broadcaster. This is sure proof that you don't need to be a big brand, or have a massive budget, to create an app that people love.
Major Movie Plus comes in 3rd on the list, making it Thailand's most popular Entertainment app of all time. This shows that while mobile video streaming consumption is increasing, the big screen is an experience smart devices can never replace. Cinema apps occupy 2 places in the top 20, with Major Cineplex the strongest performer.
Wongnai is one of only two mobile-first startups on the list. Founded in 2010, Wongnai has become the definitive directory of restaurants in Thailand, successfully leveraging mobile technology to deliver a user experience which greatly exceeded earlier online directories. Of the secret to their success, CEO Yod Chinsupakul says:
The single most important feature of the app is the ability to immediately locate the 'Top Nearby Restaurants'. Our users love this feature, and applications made this possible.
The other mobile-first startup in the top 20 is Kaidee. Kaidee is Thailand's biggest second-hand online marketplace. Over 50% of Kaidee's 30 million monthly visits are through the app, which ranks 9th on our list. With over 12 million installs reported, Kaidee's app has been key to the company's rapid growth, as Head Coach Tiwa York points out:
Since 2013 Kaidee has been developing with an app-first mentality. It was an investment for us to learn and understand our customers needs and be relevant to the audience that was using the Internet for the first time through their smartphones. This has resulted in app users being our most engaged and active customers on the platform. The success of Kaidee's app has been driven by focusing on delivering a great customer experience for the Thai audience to buy and sell quickly and easily.
From online marketplaces to air travel, Nok Air is the only airline to make the list. The domestic low-cost carrier's cheap pricing and marketing initiatives targeting varying consumer segments have made it a preferred choice on many routes. Their mobile channel is proving more popular than those of other domestic airlines, and the ease of using the service on the go has undoubtedly attributed to its success.
Last but not least, this list wouldn't be complete without 7-Eleven – the only retailer to make the list. The market-leading convenience store has massively ramped up its digital presence in recent years, including using mobile to digitize it's hugely popular stamp loyalty scheme.
The 7-Eleven TH app gives users access to special deals and discounts and the ability to engage with 7Rewards loyalty campaigns, enabling the app's millions of users to earn exclusive merchandise and rewards.
The app's popularity has steadily increased in recent years, now ranking amongst Thailand's top 5 most popular apps based on 2018 install numbers.
Commenting on 7-Eleven, Appsynth's Managing Director Robert Gallagher noted:
With 71% of Thais now using a smartphone, apps have changed the way Thai people shop, interact with businesses and engage with their surroundings. Leading businesses are treating mobile as a key strategic initiative, because a best-in-class app can now be a source of huge competitive advantage.
About Appsynth
Appsynth is Thailand's leading mobile agency, providing mobile design, development and marketing solutions for global and domestic brands, such as 7-Eleven, LINE, True, Toyota, Krungthai-AXA, Casio, British Council and Royal Bank of Scotland. The company's client base spans 15 countries, and has generated more than US $40M in app revenue and over 30 million app downloads for its clients.
About App Annie
App Annie delivers the most trusted app data and insights for your business to succeed in the global app economy. Over 1 million members rely on App Annie to better understand the app market, their businesses and the opportunities around them. The company is headquartered in San Francisco with 450 employees across 15 global offices. App Annie has received $157 million in financing from investors including e.ventures, Greenspring Associates, Greycroft Partners, IDG Capital Partners, Institutional Venture Partners and Sequoia Capital. For more information visit AppAnnie.com
Article References:
First-hand App Annie data

Google Barometer Study 2015, 2017

We Are Social Global Digital Report 2018