Throughout the credit and debit card revolution of the last 20 years, Thailand has remained a predominantly cash-driven society.
An estimated 87% of the country do not use a credit card, while an estimated 30% of the country still remains un-banked and therefore using cash for every transaction.
There are numerous examples of independent industries where card payments haven't been adopted because cash has remained the most practical option – think 'mom and pop' corner stores, street food stalls and motorbike taxis.
In addition, many businesses and individuals live a hand-to-mouth existence, where waiting for bank clearing is not an option. Cash is needed to keep the cogs of the business turning and put food on the table.
With this in mind, you might be surprised to hear that Thailand is in the midst of a cashless revolution.
Over the past five years the payment systems landscape has changed massively and presented consumers with a number of alternative ways to pay for goods and services.
The term "cashless society" is a buzzword in Thailand, and people are excited about it. Even the government is backing this progressive approach to transactions with its national e-payment program.
From contactless payments to mobile wallets and QR codes, the way Thailand spends its money is evolving.
In this post, we'll take a look at the most prominent innovations taking place.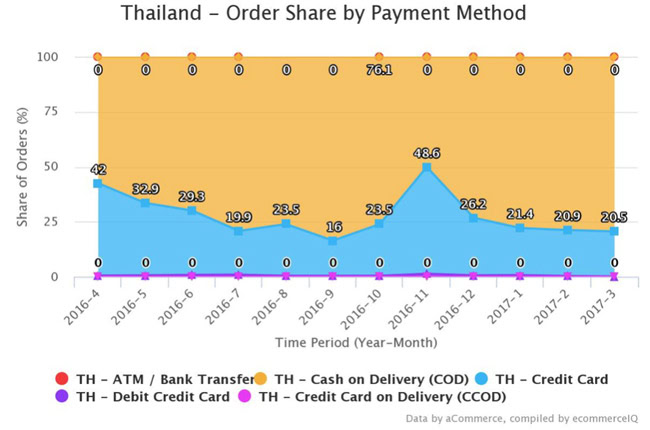 QR Code Payment
QR code payment is becoming increasingly common among big brands. Most notably, the state petroleum company PTT has introduced this payment method at its retail stores, which include Café Amazon, Daddy Dough, Hua Seng Hong Dim Sum, and FIT AUTO.
The Mall Group has followed suit by installing smart self-checkout kiosks for cashless payments at all Gourmet Market and Food Hall outlets – this includes QR code payment and LINE Pay. There are also 2,200 Jiffy convenience stores offering QR code payment.

It isn't just big brands facilitating the use of QR codes. The introduction of a standardised quick-response (QR) code by the Bank of Thailand has enabled consumers to use a single code to make payments through local bank networks.
The standardised QR code is seen as a major step forward for consumers and merchants, as consumers won't need to scan different QR codes when making payments through different banks, while merchants only have to display one QR code for payments.
Government PromptPay
PromptPay is part of the national e-payment scheme, a project designed to move Thailand towards a cashless society. It is part of the government's Thailand 4.0 initiative, which seeks to create a value-based economy driven by innovation, technology and creativity.
The system ties ID numbers and/or mobile phone numbers with bank accounts so that transferees can use these (instead of a bank account number) to transfer money.
Transfers are free up to 5,000 Baht; 5,001-30,000 Baht transfers cost no more than 2 Baht; 30,001-100,000 cost no more than 5 Baht; and transfers exceeding 100,000 Baht are charged no more than 10 Baht.
Since PromptPay launched in 2017, there have been 97 million transactions, totalling 370 billion Baht in transfers, across 37 million savings accounts. 25 million of those accounts were opened with citizen ID numbers and the rest with mobile phone numbers. (Reference: Bangkok Post)
Mobile Banking & Wallets
In a nutshell, a mobile wallet is a way to carry your credit card or debit card information in a digital form on your mobile device. Instead of using your physical plastic card to make purchases, you can pay with your smartphone, tablet or smartwatch.
However, wallets are evolving into much more than just digital cards: For example, the TrueMoney Wallet can be manually topped up with cash or auto-topped up when connected to a bank account.
The TrueMoney Wallet allows users to scan and pay bills, top up phone credit and make purchases. TrueMoney also provides the wallet infrastructure for the hugely popular 7-Eleven app, which we'll look at a bit later on.
An increasing number of large businesses in Thailand are developing payment wallets as a way for their existing customers to pay for their products or services, with the hope that the wallet will also be offered as a payment option by third party services – thus increasing the popularity of the brand and attracting more business. The more users a wallet has the more likely is it is to be adopted as a mainstream payment option.
As seen from the graphic below, companies such as LINE, Garena, and Lazada have taken advantage of large user bases to promote a wallet service.
Such services seek to create an ecosystem that ties the user into the brand via multiple lifestyle services. These brands are disrupting the traditional banking system and themselves becoming facilitators of monetary transactions.
The banks are fully aware that they need to keep pace with fintech startups looking to disrupt banking and financial service industries. Alternative mobile payment options such as preloading money to a wallet make it entirely possible for consumers to cut out the banking system entirely.
For example, TrueMoney has launched a remittance service that facilitates cross-border remittance from Myanmar and Cambodia to Thailand. This provides an easy way for Thailand's 3 million migrant workers — many of whom are unbanked — to transfer cash home to their families, without the need for a traditional banking transaction.
In light of such developments, banks are making a big push to encourage users to use their mobile banking services, be it as a standalone service or in conjunction with third party services.
Kasikorn Bank has been the most successful of the big banks so far, with 50% of its users adopting its mobile banking platform. Siam Commercial Bank (SCB) has also made good ground, with a 35% uptake.
SCB has gone a step further in its mission to grow and remain relevant among the next generation of banking customers, who, unlike generations before them, won't necessarily see banks as the main facilitators of the movement of money.
SCB bank has inked a memorandum of understanding with Mahidol University (MU) for the formation of a "Smart University" that leads towards the goal of a cashless society. The two organisations will collaborate on developing a digital ecosystem that connects an administration platform, education and learning, infrastructure and digital lifestyle at the university.
'SCB will support university personnel and students' readiness for a cashless society with innovative digital financial services that are modern, secure, and convenient in preparations for the university to become an international model of a digital convergence university', said the bank's senior executive vice president and head of corporate banking Khun Wasin Saiyawan. (Reference: The Nation)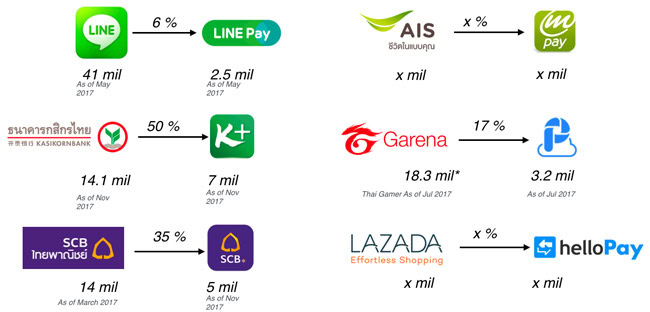 Rabbit LINE Pay
The mobile wallet is not just a hugely efficient service for the Thai economy, but it also enables the 87% of people who don't have credit cards to pay by means other than cash.
Positioning themselves as one of the biggest players in the cashless revolution is Rabbit-LINE Pay.
Rabbit-LINE Pay can be used to pay for its own products such as LINE stickers and game items, LINE gift shop items, products on Lazada, MEB e-books, games from other publishers, movie tickets, pizza and insurance (the last three only from inside LINE itself).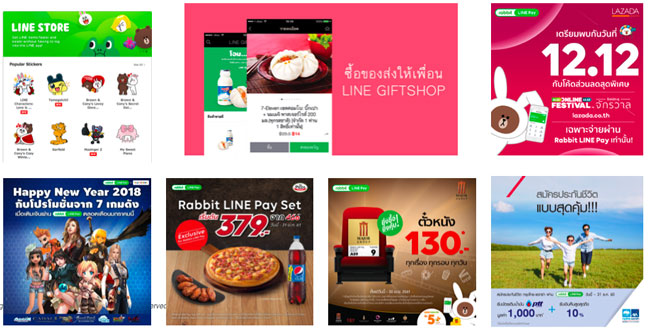 The service started out as just Rabbit-Pay – a way for commuters pay for BTS train fares. The company then teamed up with LINE — to take advantage of its 41 million users — and expanded into offering several other services.
In March 2018, two became three. The venture is now joint owned by the aforementioned two companies and AIS, who already has a substantial amount of users on its mPAY wallet.
One key advantage of digital payments over cash payments is that digital payments are generally part of a bigger ecosystem, an ecosystem that is able to continuously communicate with the user and provide additional, personalised information.
By collaborating with third-party merchants, users can be offered special discounts and relevant, timely information that will help them make better purchase decisions, and in many ways enhance their lives.
One example of this is Rabbit LINE Pay's partnership with Samitivej Hospital. The hospital has an official LINE account with an aligned beacon inside the hospital. This enables its customers to access useful information when inside the hospital, book appointments, ask doctors questions about healthcare, and pay bills (through the LINE app).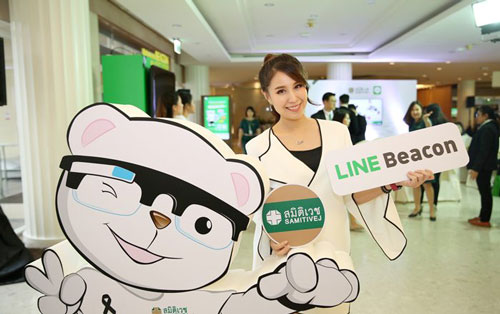 Khun Ariya Banomyong, managing director of LINE Thailand noted:
Rabbit LINE services would allow more Thais to buy products and services more conveniently.
He also commented on Facebook…
The partnership would spur the growth of digital money and a cashless society for Thais.
With 41 million+ LINE users (2.5 million+ already using the LINE Pay wallet), 8.5 million Rabbit Pay users, and access to 38 million AIS users, it is clear that the big players in the lifestyle services sector are strategically positioning themselves at the forefront of the cashless society revolution, ensuring that they stay relevant and ahead of the curve.
7-Eleven App Wallet
The 7-Eleven App Wallet enables customers to pay without cash at over 10,000 stores nationwide. As mentioned previously, the wallet is powered by TrueMoney Wallet and uses seasonal promotional campaigns to reward customer loyalty.
These campaigns provide fun ways for customers to engage digitally with the brand. For example, the brand's 2018 World Cup campaign gives customers the chance to play a mini in-app football game following an in-store purchase, with real-world prizes up for grabs. For each cash payment of 40 Baht or more, customers earn one chance to play the game, but paying via the mobile wallet nets them 3 chances to play instead.
Beyond providing a more convenient way to pay, and deeper engagement with 7-Eleven's loyalty campaigns, the app's mobile wallet also provides a compelling proposition to parents. Rather than giving their children daily pocket money in cash for food and drink, which might wind up being spent down the game arcade, topping up their child's mobile wallet instead provides parents a greater degree of control over where their children spend the money they are given.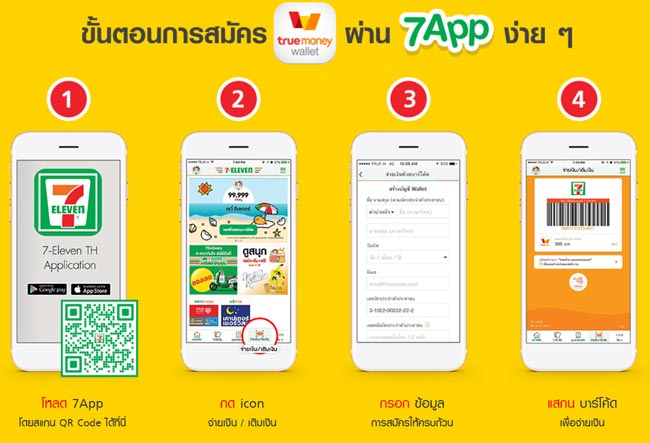 BluePay & Sun108 Cashless Vending Machines
One may have been naive enough to think that vending machines would become a thing of the past in this digital age, not least because there's two 7-Eleven's, a Family Mart and three coffee shops on every street corner. But no, a company called BluePay are taking vending convenience to the next level.
Unsurprisingly, supporting the BluePay vending initiative is a wallet, which users can also use for mobile phone top-ups with all major providers, movie ticket purchases, bill payments, money transfers and more.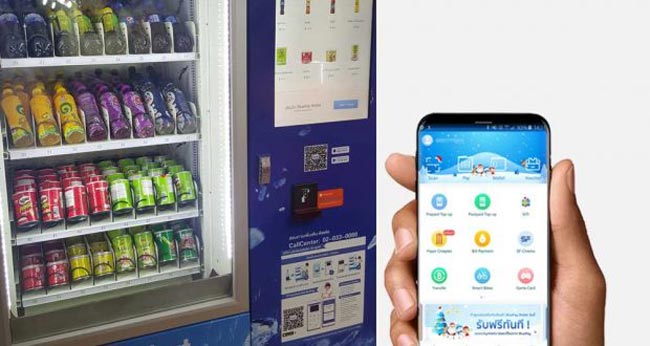 BluePay is not alone, though, and has an able competitor in Sun108 – Thailand's leading vending machine operator with around 10,000 vending machines in the market.
Sun108 has partnered with Kasikornbank and Alipay to develop vending machines that enable Chinese tourists to buy food and beverages by QR code or the Alipay application. Thus far, a number of machines have been installed at popular tourist sites and department stores, with an aim to expand the number to 500 machines within three years.
KBank sees greater business opportunities in line with the considerable influx of Chinese visitors with strong purchasing power and a preference for Thai products and services. Additionally, this tourist segment is generally familiar with mobile payments. (The Nation)
The MangMoom Card
The government's drive towards a cashless society is increasingly picking up pace. In addition to the standardised QR code and PromptPay system, June 2018 will see the much anticipated arrival of the MangMoom card.
In days past, the most annoying thing about using public transport in Bangkok was that you couldn't buy one card that would enable you to pay for both the BTS skytrain service and the MRT underground service (which was recently also extended above ground).
You could purchase two separate cards, but many people simply didn't bother because it was impractical. Not to mention the fact that neither of these cards enabled you to pay for a bus or ferry ride.
Using the MangMoom card, users will be able to go cashless on the BTS, MRT, Airport Link, Buses, and Chaopraya River Boat transfer services.
One has to wonder whether the two-year delay in the emergence of the MangMoom card has had anything to do with the fact that this card essentially makes the old Rabbit Pay card redundant – the MangMoom card enables users to pay for all transit services from one card.
Now that Rabbit-LINE-AIS have joined forces to offer new services outside of public transport, it means that Rabbit LINE Pay and MangMoom have clearly defined sectors of the market that don't overlap.
Driving Loyalty with Mobile Payments
Forward thinking companies such as Starbucks, S&P, Amazon, and the CRG (Central Restaurants Group) are going beyond the somewhat dated loyalty card model and leveraging mobile applications to allow users to make cashless payments and collect points (digitally).
This not only makes payment that much easier when you have a coffee in hand, but also promotes consumer loyalty. On a psychologically level, this model instills a sense of privilege in the user: a cool swipe of your smartphone across the card reader is far more "VIP" than fumbling around for change in your pocket. On a practical level it enables the user to engage in the cashless buying of food and beverages.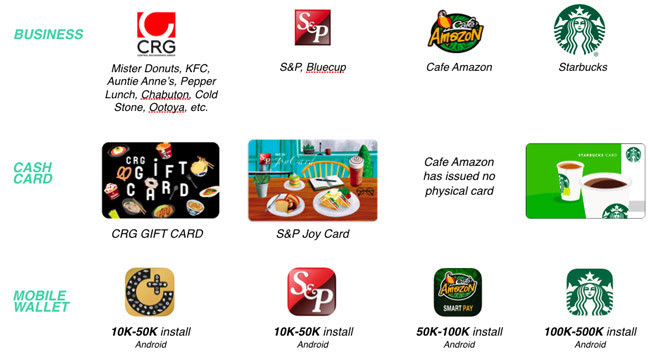 Food Delivery Services
Food delivery services are playing a huge part in Thailand's cashless revolution, with services like Uber Eats and the LINE MAN food delivery service both enabling food delivery on a cashless basis.
The LINE MAN food delivery service has an impressive 1m users — all wallet enabled — and 30,000 participating stores to choose from. According to Euromonitor International, Thailand's online food ordering market is set to reach $1 billion in 2018.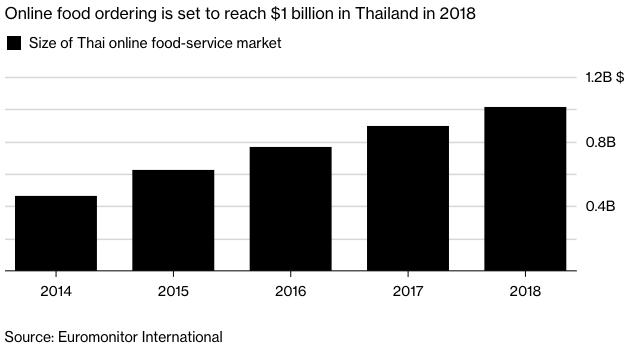 The Pros & Cons of a Cashless Society
The Bright Side
Cashless initiatives such as mobile wallets, standardised QR codes and multifunctional payment cards can benefit the consumer in numerous ways.
It's much easier to shut down your digital wallet when compromised than it is to recover lost cash. Moreover, digital data is unique and can always be traced back to you, unlike cash, which can be stolen and disappear forever.
On a practical level, going cashless saves you time when paying for goods and services, and means you don't need to carry cash.
A cashless economy also encourages more competition. For example, by offering wallet payment a business is able to leverage the power of associated branding; in the same way that the early adopters of Visa did back in the day.
Simply being listed as an associated service partner with a wallet such as TrueMoney or LINE Pay automatically exposes a business to a far bigger pool of potential customers. Increased competition means an increase in discounts and promotions for the consumer, and generally a subsequent lowering in the price of goods and services.
The Darker Side
As Thailand takes leaps and bounds towards a cashless society, the consumer should be aware of the potential pitfalls of this progression:
The most obvious hazard is that if your smartphone battery dies you will not be able to make a payment using your wallet or a QR code. This means that most people will have to carry a backup in the form of cash or a debit or credit card, which defeats the very point of "going cashless".
That flaw aside, security will always be the biggest consumer concern. As we saw from the initial slow adoption of eCommerce in the early 2000s, fear of fraud is a key factor that prevents people diving headfirst into new technology.
Behind each cashless platform is a database, and a database can be compromised. Even though technology rapidly advances and databases become more secure, so does the ability of cyber criminals to infiltrate the system.
Because it is possible to access or shut down a digital wallet remotely, this potentially exposes people's financial accounts to access from hackers or government authorities.
Cash is a physical asset: You can trust the bank to store it, or hide it under your mattress. A cashless society does not offer that choice, at least not a choice that doesn't involves governmental or banking control. And this is the main benefit behind crypto currency – but that's for another post!
A recent article in the Bangkok Post regarding the PromptPay initiative unveiled what some might cite as a concerning motive by the "big banks" of Thailand:
Four large banks — Bangkok Bank (BBL), Siam Commercial Bank (SCB), Krungthai Bank (KTB) and Kasikornbank (KBank) — last Wednesday made a surprise push into digital banking by offering free transactions on their digital platforms. The aim is to attract more customers and monitor their financial behaviour, which is crucial for banks to compete with new players from platform giants like Alipay.
Consumers should be aware that for every bit of money they save through cashless payment platforms, in return they are giving away an increasing amount of information (data) about their living and spending habits.
This is the trade-off behind a more convenient, valuable service. In return for seemingly making our lives "easier", businesses want as much information about our spending habits as possible. They then use this data to better position their services/products in the market, and increasingly personalise their marketing communications.