Choosing a mobile marketing platform to help you automate engagement and provide vital analytical insight can be a difficult task.
There's a lot of choice out there, with the majority of companies claiming to offer "everything you need", and more.
You'll find that all the platforms offer standard features such as user segmentation, cross channel personalisation, push notifications and in-app messaging, but some excel over others in specific areas.
In addition to the aforementioned user engagement features, the majority of app marketing platforms double as an analytics solution, enabling you to create marketing campaigns based on useful data insights.
What separates one platform from another is often down to user preference: Perhaps you prefer the UI of one over another, perhaps you prefer a platform that takes full control using predictive behaviour – so you don't have to crunch any data, or perhaps you're looking for a platform that has a dedicated focus on customer behaviour and growth, which will easily integrate with your existing tool stack.
Here at Appsynth, we've pretty much tried them all at one time or another, and those we haven't ended up using, we've been given a one-on-one demo by a company representative.
For the sake of transparency, we currently use four platforms to serve our clients' marketing needs, namely Swrve, AppBoy, Amplitude, and Localytics.
To help you decide which platform is best aligned to your business needs, we've put together a guide of what we consider to be the 9 best mobile engagment platforms on the market today.
1. Swrve
Swrve is a powerful mobile marketing automation platform that provides a 360 degree view of the customer experience.
Its key focus centers on driving high-level engagement through push and in-app messaging campaigns. It does this by analysing key performance metrics that identify where your app is successful and where it has room for improvement.
Swrve uses retention and cohort analysis to give you a clear picture of how well users like your app once they start using it, and how they interact through the onboarding journey and beyond. This helps you identify drop offs in engagement, at which point you can create targeted push campaigns to increase retention.
Swrve is for those who want granular control over their user segmentation, and hands-on control over data analysis, which is also exportable for your data team to crunch elsewhere.
A/B testing is highly customisable too, offering endless variables that can be tested using cohorts based on specific demographics, events, purchase history, usage and much more.
Resource A/B testing, which allows you to experiment with different variations of a code-level element or feature, is something most app engagement tools do not include (so you also need to use a dedicated A/B testing tool like Apptimize or Optimizely to run these tests).
Swrve is one of the few exceptions, providing a robust multivariate testing tool that extends beyond simple A/B testing engagement campaigns. At Appsynth, we use this function to gradually rollout a notable change or new feature: to measure its initial impact on a subset of users before launching it fully.
Monetisation and attribution is highly-efficient too: You can track acquisition metrics by referrer channel and campaign; view sales by unit, top-selling, spend and revenue; view KPIs for revenue, ARPU and ARPPU; and track downstream monetisation from a campaign or referral.
Swrve recently added hold-out groups, which allow you to section off a small segment of users and choose to exclude them from all campaigns. This feature gives you a clearer picture of the direct impact of using the tool and a clear measure of ROI to justify its continued use.
Swrve's segmentation capabilities are as good as any platform on the market, but one limitation is newly created segments do not apply retroactive: so a user who previously completed actions which would qualify them for your new segment would not be added until they meet the qualifying criteria again.
Therefore, you need to be thorough in considering all possible segments you might need, or you may find yourself unable to target certain users you want to reach later on.
In terms of data insight and the ability to take action and monetise those insights, Swrve is one of the most capable app marketing platforms out there. That said, it may well be too complex for smaller agencies and independent app owners, who would do well to continue looking down this list.
It isn't cheap either. Fully expect a monthly bill that runs into four figures. Swrve is for the big App Store players, establish brands, and those medium-large size agencies with a marketing client roster to justify the cost.
Suited to: Big brands and agencies with a generous budget
Key features: Code-level A/B testing, push notifications, in-app campaign delivery
Best for: Marketing automation
Pricing structure: Bespoke monthly packages based on MAU tiers and support level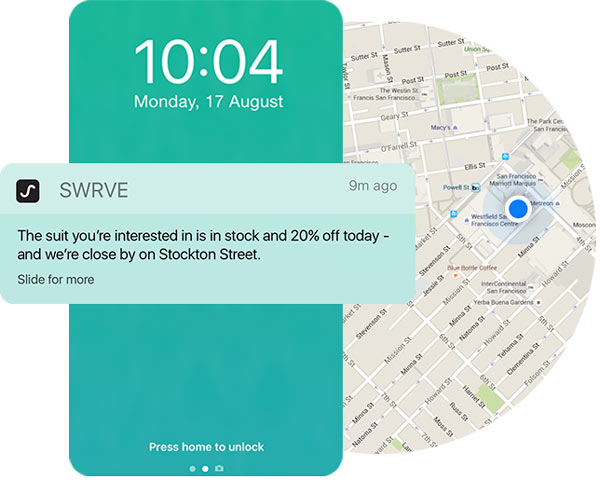 2. Braze (Formerly Appboy)
Braze is a close alternative to Swrve in terms of marketing functionality, with email messaging support an additional plus point.
The platform uses artificial intelligence to deliver data-based suggestions for advanced segmentation. It builds user profiles based on user demographics, purchase information and user behavior to create segments that can be targeted using push, in-app messaging, news feeds and email.
The Braze Intelligent Selection tool uncovers high-performing variants, while the visual experimentation tool (Canvas), assists you in creating personalised customer journeys that fit specific characteristics and goals.
In terms of data analysis, alongside the standard stuff like lifetime and custom period revenue and usage stats, Braze offers detailed reports for all campaigns, each including integrated insights for a cross-channel look at what KPIs have been achieved and how your entire funnel is shaping up.
It's certainly worth noting that Braze was recognised as the market leader in the Forrester Wave™ Mobile Engagement Automation (2017) evaluation. It received the highest score in both the Current Offering and Strategy categories based on evaluation of the most significant mobile engagement providers.
Braze also has a partnership with Amplitude – our preferred Product Analytics tool – which allows data to be passed seamlessly from one to the other in either direction.
Braze lacks the resource A/B testing capabilities of Swrve, but features more advanced AI and a best-in-class message visualisation tool. Braze is also the most well-funded company on the list, and they continue to invest heavily in making it even better.
Suited to: Businesses of all sizes
Key features: AI-based insights, auto-optimisation, message visualisation canvas, advanced segmentation & triggering, fast data export
Best for: Comprehensive marketing automation tool
Pricing structure: Growth, Pro, Enterprise plans. All plans require a demo before pricing is revealed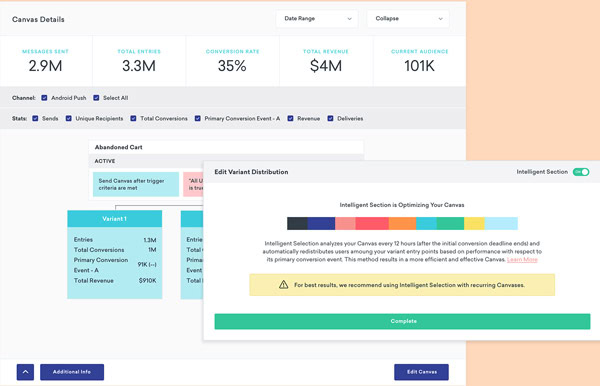 3. Amplitude
Amplitude is a dedicated Product Analytics platform with some very unique features that help you devise precise segments to engage with. It is not a standalone engagement platform, though, so you will need to run it as part of a stack to take action on the segments you've created.
One of the best features is a predictive analytics function called 'Behavioral Cohorting'. This feature helps you understand which behaviours in a user's early sessions lead to better long-term retention, which behaviours are more likely to lead to churn, and which events are leading indicators of any other desirable actions occurring. These behaviors can then be proactively encouraged.
Another interesting feature is 'Microscope'. This feature enables you to explore the user behaviour data behind your graphs. Simply click on any data point in a graph to zoom in and see the users and actions that make up that data point. You can then go a step further and create a cohort of the users who performed that particular behavior, and then create a messaging campaign targeting those users. Cool, huh?
Amplitude is based around tracking the user journey and identifying user behavior insights that will in turn help your product to grow. You can directly export cohorts to AppBoy, use the API to export data to other third party platforms, or feed external data into Amplitude.
Amplitude also provides a single-customer view across multi-apps, showing cross-app user journeys and how behavior in one app impacts another. This is very useful for companies with a portfolio of apps, especially for app constellations where there is a cluster of related apps that interact with each other. Compared with Aplitude, all other platforms feel like a workaround to achieve any level of interoperability between apps.
Amplitude is free for tracking up to 10 million user actions per month. Of course, you don't get the integration support or a dedicated customer success manager, and some of the more powerful features are also unavailable on the free tier, but for smaller businesses who want to try before they buy, it is a good starting point.
Go above 10 million user actions and you will move on to event-based pricing, which can get pretty costly, especially if you have frequent events that are essential to track: think things like ad requests or viewing regular content postings.
Beyond simply tracking more events, the premium package provides access to the platform's most powerful features. These are not available for Free, so the premium offering is certainly the way to go.
Suited to: Those with the budget to incorporate a very powerful marketing analytics tool into a broader stack
Key Features: Data scanning, identifying friction and trends, behavioral cohorting, importing/exporting data
Best for: Predicting user behavior
Pricing structure: 0-10 Million Monthly Events – Free/ 0-100 Million Monthly Events – $995 / 0-10 Billion+ Monthly Events – POA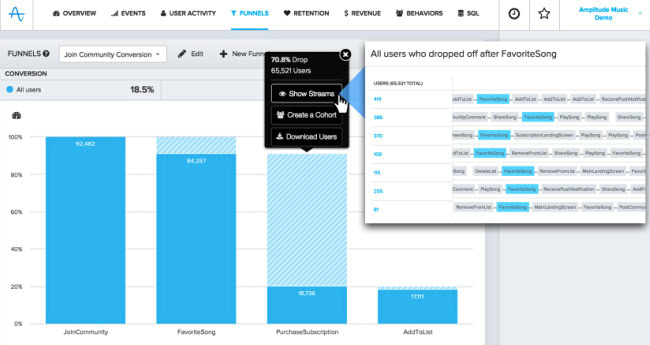 4. Localytics
Localytics is a robust analytics tool for mobile and web, with an advanced funnel analysis tool that measures in real-time (or retroactively) key drop-off points and varying stages of your users' in-app journeys.
Localytics has come from an analytics background and integrated marketing automation as it has evolved. Its history means its analytics offering is stronger than many other tools that started with marketing automation then built out analytics, and it has the best funnel analysis tool of the all-in-one platforms.
Localytics now combines analytics and marketing functionality very well. Using analytical insights, you can devise targeted push campaigns based on past behavior and user profile attributes. The user-friendly interface enables you to easily add images, video and other rich media to your campaigns so that you can start testing communications quickly.
Beyond the basics, Localytics standout feature is undoubtedly its Artificial Intelligence. You can set Localytics to automatically message users based on how likely they are to churn or convert in the future.
It also has a Predictive Module – which functions in a similar way to Amplitude – that reveals leading indicators of a future behaviour. This is a feature that many other marketing tools lack.
Pricing is MAU-based (not event based), which makes it easier to predict costs and makes Localytics more accessible to smaller businesses. It is also possible to exclude certain modules for a lower-cost package.
Suited to: Businesses of all sizes
Key Features: Real-time engagement analysis, message A/B testing, flexible push notification marketing, location based messaging using geofences
Best For: Proficient mobile marketing and comprehensive analytics
Pricing: MAU based. Unlike some platforms, messaged users who don't open the app do not count towards MAUs. Free trial available
5. CleverTap
CleverTap's behaviorial analysis is similar to Amplitude's, and its marketing automation similar to Localytics, making it a potential contender for one of the best integrated mobile marketing and analytics platforms around.
Like Localytics and Mixpanel (next in this list), CleverTap also integrates very efficiently with web traffic. For the record, Swrve and Appboy can also be utilised with web traffic. CleverTap also has entry-level plans for those on a smaller budget.
CleverTap's USP is its Pivots feature. This is an industry first data-exploration tool that summarises your data and helps you slice it into tables and other visualizations.
A Pivot analysis is especially useful when you are dealing with a large volume of data, as it allows you to create incisive summaries and view custom reports to gleam insights.
You can pivot on any event or demographic, session field, etc., and then view the data in multiple visualisations. So rather than pulling data in Excel sheets and having to manipulate it offline to find those deeper, more elusive insights, you pivot an event to find out its most significant characteristics.
So let's say you sell concert tickets via your mobile app: you can pivot on sales to find out what time of day you sell the most tickets. You might then choose this time of day to launch a new push promotion.
Another notable feature is that you can create live user segments in the present, not just in the past: For example: users who did/will not achieve a certain goal within 10 minutes.
This is true real-time marketing that allows you to jump in and manipulate user behaviour on the fly. This is particularly useful if you want to introduce a new element to a time-sensitive marketing campaign.
The UI isn't quite as intuitive as Amplitude, but the option to create customisable dashboards for clients will appeal to agencies.
Suited to: Businesses of all sizes
Key Features: Real-time engagement analysis, A/B testing, flexible push notification marketing, geo-fencing segmentation
Best For: Proficient mobile marketing and comprehensive analytics
Pricing: Starter (Free – 10m events) / Pro – $350 pm / Unlimited – $700 pm / Enterprise (POA)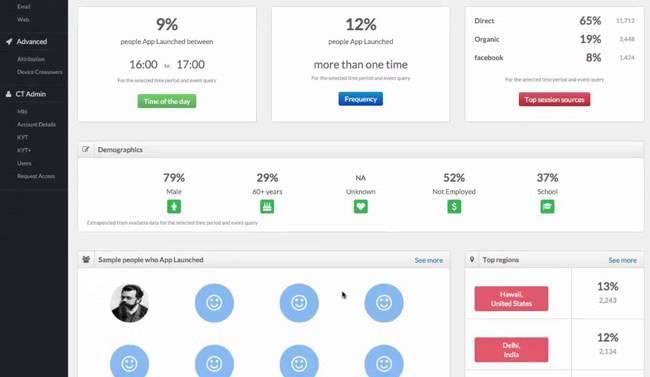 6. Mixpanel
Mixpanel is primarily an analytics platform that has evolved to make marketing automation and analytics viable for everyone from small app developers to big brands.
If you like a visual approach to data then Mixpanel will appeal. The platform is capable of producing numerous charts and graphs, which is a good thing if you are required to create presentations or reports from your data.
The funnel analysis function is a good feature, and might be considered a "lite version" of Amplitude's Behavioural Cohorting. It informs you of the point at which a customer drops out of a specific journey. Conversely, retention analysis shows when customers return and engage with your app. This in turn enables you to build more effective messaging campaigns.
The platform also supports web, which is a good option for companies who want to integrate their mobile and web analytics in one place, with the added functionality of push notifications. As mentioned in the CleverTap analysis above, other tools have also added web support, but Mixpanel came from a web background so it feels more complete.
Mixpanel will appeal to non-techies too, in that it does a lot of the work for you. For example: where push notifications are concerned, you simply set behavioural triggers, scheduling and rate limits, then prioritise your messages and Mixpanel figures out the rest.
This ensures that users get an individually tailored series of messages that is relevant, timely and delivered at the right pace. Like other platforms, you can also A/B test your communications to find your message sweet spots.
Suited to: Businesses of all sizes
Key Features: Funnel analysis, visualisation platform, multi-platform support
Best for: visual analytics; simple, effective push messaging
Pricing structure: Free (up to 20m data points), Startup ($999), Enterprise (apply within)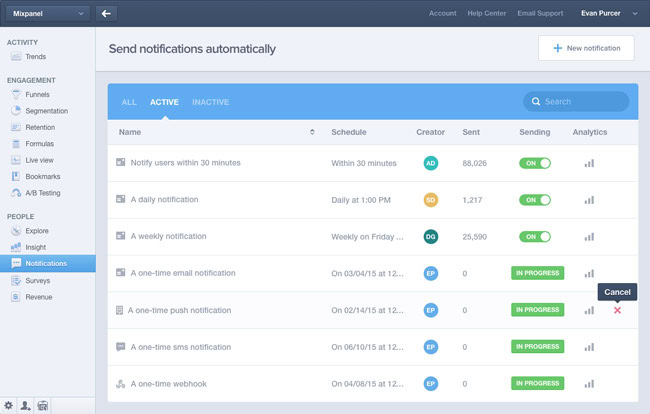 7. Urban Airship
Urban Airship is well-known for its efficient push and in-app messaging features. Historically, this has made it an attractive platform for big brands who want to segment and schedule batch message notifications.
In recent times, though, Urban Airship has rapidly expanded its analytics capabilities. Indeed, Forrester's first Mobile Engagement Automation Wave™ report gave Urban Airship's analytics capabilities 5/5, and you'll see from the image earlier in this post that they are considered a close second behind Braze as an industry leader.
Urban Airship excels in funnel reporting, data exploration and audience analysis, all of which enable you to identify your most valuable customers across multiple channels.
Conversion optimisation is then further facilitated through retargeting and lookalike campaigns, which you can base on data insights from key engagement metrics and behavioural analysis.
For those working with a multi-platform stack, Urban Airship has a real-time mobile API that connects your data for use in any business system or channel.
Suited to: Big brands and agencies
Key Features: Customer intelligence, predictive churn, Real-time API
Best for: Messaging and funnel analytics
Pricing structure: POA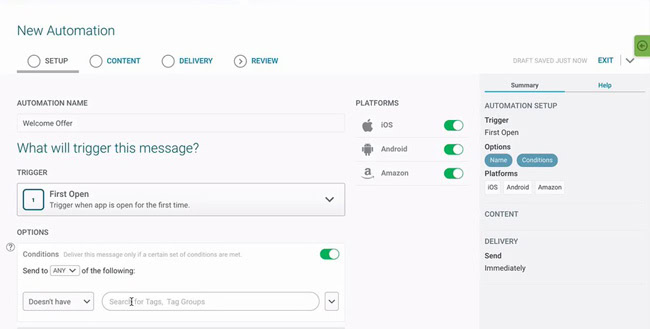 8. LeanPlum
LeanPlum is a fully integrated mobile marketing and analytics suite, with similar features to the likes of Swrve and Localytics.
It has sophisticated funnel analysis, rich-media push/email messaging features, A/B and multivariate testing and the capability to deploy code-level A/B tests without App Store resubmissions. All this sits on top of a very user-friendly UI.
LeanPlum offers effective behaviorial analysis. Most notably, it continuously analyses your messaging campaigns and reports significant changes that you may want to act upon. This is similar to the Compass feature offered by Amplitude.
LeanPlum's message engagement features make for effective on-boarding and promotional campaign sequences, giving you the ability to set triggers and conditions that send messages based on specific behaviours.
In addition, there's the App Inbox feature. This is a standalone channel within your app where messages persist until users engage with them. Messages on App Inbox live in a single screen, so users always know where to access the latest content.
On the analytics side, LeanPlum offers real-time user insight and the power to customise parameters, reports and metrics. The insights functionality examines engagement, retention, revenue, uninstalls and more. All this is complemented by data visualisation.
LeanPlum seeks to facilitate client growth through on-going support and consultancy. To help get you up and running and experiencing value from the tool quickly, they provide recommended "recipes" that cover common use cases, It's not a DIY platform, and there are no plans to choose from on the site. This, of course, means it doesn't come cheaply. They do offer a free trial, but you'll need to enquire within first.
Suited to: Big brands and agencies with a generous budget
Key Features: Behavioural analysis, A/B and multivariate testing
Best for: Real time analysis & messaging/onboarding funnels
Pricing structure: POA
9. Upsight
Upsight is unique in that it is an analytics, integrated marketing and ad optimisation platform, and therefore particularly popular in the gaming industry. Notably, Upsight's ad optimisation tool bears similarities to our own AppMojo platform, which we developed prior to them adding the ad optimisation feature.
Upsight has a built-in ad server that enables you to optimise traffic and broker deals with all major ad networks. It then lets you display static interstitials, rewarded videos and other rich media inside your app.
For messaging campaigns, you can use standard or custom attributes to build user segments, and then A/B test promotions and announcement. For those with more than one app, you can cross promote and drive users to other apps in your portfolio with your own ad-creatives.
On the analytics side, Upsight lets you combine custom data points and calculations to create your key performance indicators. In-app events (or web) can be applied to Personalised Metrics and examined in multiple dimensions.
Upsight is quite like Mixpanel in that once a Personalised Metric is defined, it performs custom aggregations. This data can then be visualised in your dashboard or sent to Upsight's marketing tools for further action.
The Segment Finder feature offers an effective data mining tool. It looks at the data captured against a dimension, then searches across other dimensions to find your over and under-performing variances.
Suited to: Apps and websites that use an ad monitisation model and want a single solution for marketing, analytics and ad management
Key Features: Ad placement/optimisation, data mining (Segment Finder)
Best for: Ad optimisation and cross-app promotional campaigns
Pricing structure: Based on MAU. Pricing revealed after demo