ASO (App Store Optimization) is the primary focus of every app marketer. The goal is to uncover profitable new keywords, increase download volume and stay one step ahead of the competition.
To achieve this, you need reliable data sources.
At Appsynth we use a portfolio of ASO tools to gain a competitive advantage for our clients. One of those tools is Mobile Action.
If this review, we'll walk you through the key features of this platform and explain how they might be useful for your app business.
It's free to sign up to Mobile Action, but access is of course restricted to basic features unless you take up a Premium plan.
At the very basic level (My App Insights), you can connect your iTunes Connect account and gain access to free analytics such as download and revenue data. You will also receive personalised suggestions for improving your app. But that's all.
Those with a paid account can begin using the advanced features.
So let's jump in and start from the top…
Mobile Action: App Intelligence
The first module in the dashboard, App Intelligence, is where you can analyse your app profile. This includes an overview of your app: its category ranking history, a review breakdown, visibility score, download and revenue totals, similar apps and other general statistics.
Elsewhere in this module you'll find app charts that show which apps rank where in different categories across the App Stores. You can see the biggest movers, biggest losers and any new apps that may be competitors you want to keep and eye on.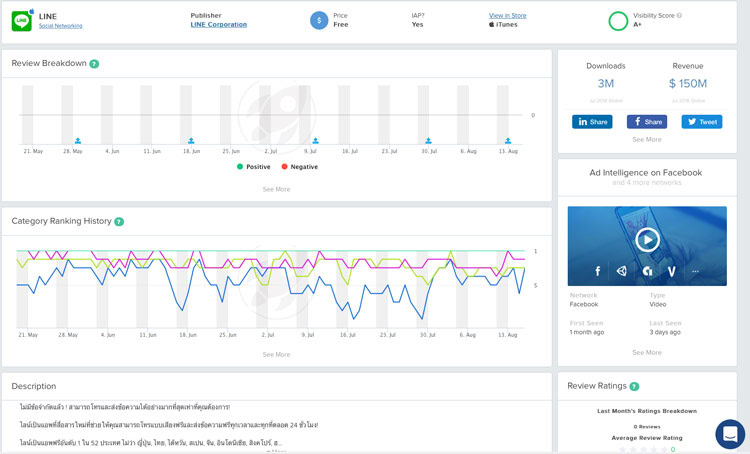 Even though it's nice to have all this information in one easily accessible dashboard, frankly this isn't that exciting and it may be information you can find free elsewhere.
What mobile action is most useful for is everything outside of this basic section. It's the next three categories on the navigation menu that contain the gold nuggets:
ASO intelligence
Market intelligence
Ad intelligence

Mobile Action: ASO Intelligence
ASO Intelligence is a comprehensive set of tools that enables you to deep dive on keyword research and track the keywords of your competitors.
When conducting your keyword research, there are two particular metrics that you should pay attention to:
Search Score: an estimate of the relative search volume for each keyword, provided on a scale of 0 to 100, with 100 being the most searched.
Chance Score: an estimate of your app's probability of ranking in the top 10 for each keyword, measured on a scale of 0 to 100, with 100 being the easiest to rank for.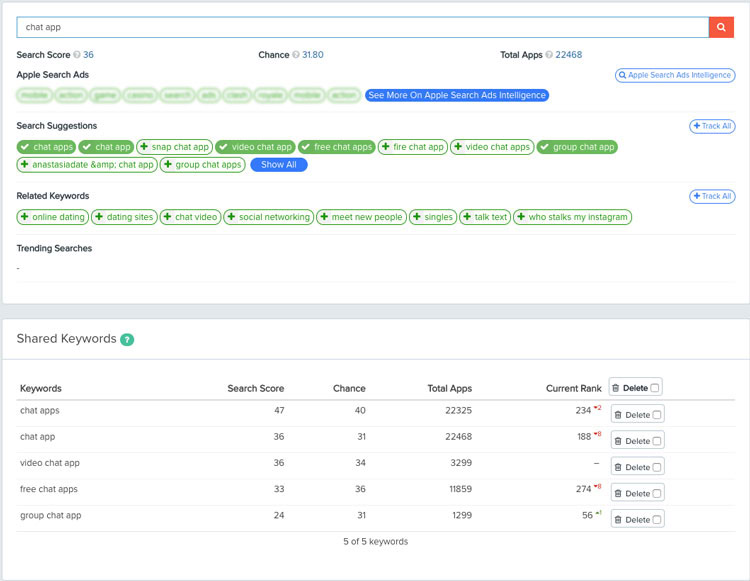 You will want to uncover keywords with a fairly high Search Score because these are keywords users are using to find apps similar to yours. And you want to go for keywords with a high Chance Score because these are the keywords that are easiest to rank for. Also look at how competitive the keyword is by looking at the 'Total Apps' metric.
Another cool feature, which you will find under keyword research, is the 'Top Apps' widget on the right-hand side of the page. When a keyword is selected in the search keyword section, Mobile Action shows you a list of top apps that rank for that particular keyword.
ASO is all about data intelligence. Any insight you can gather on your competitors will give you a huge advantage. By using Mobile Action, not only can you find keywords with high potential, but you can also spy on your competitors and see what keywords they are using.
MA shows you a list of competitor keywords. If you click on a specific keyword in the suggestion screen, it will add it to your keyword tracking list so that you can keep an eye on it.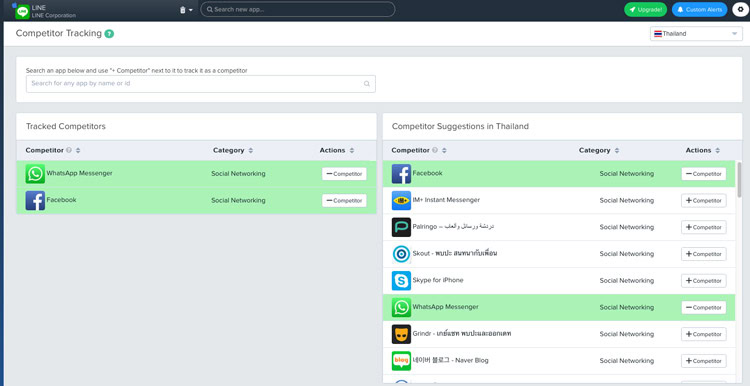 There are two sections to ASO intelligence. The first (Basic), as discussed above, is all about researching and finding new keywords and tracking competitors. The second section is more advanced (Premium).
The first feature of ASO Premium is an ASO report, which is essentially a health check to see how many keywords an app ranks for, its weekly changes in rankings distribution, and historical rankings by keyword. This is probably something you'll scan over with a coffee on a Monday morning.
Keyword Intelligence, however, is a lot more interesting.
Perhaps the best feature of this page is the percentage of organic downloads by keyword feature (seen in the screenshot below). This feature reveals which keywords are providing you with the most downloads.
This is really helpful because it gives you an accurate measurement of the conversion power of each keyword.
For example, you may have found that a few of the keywords you have been targeting have not been generating many downloads. Conversely, you may find that a keyword that your app is not highly optimised for is bringing you more downloads than you would have expected.
In this case, you would want to better optimise your app for that keyword. On the same page, you can see the Search Score and the total number of apps that are ranking for each keyword, too – this gives you an insight as to just how competitive each keyword is.

What becomes quickly apparent when hopping from module to module is that Mobile Action essentially helps you develop an ASO strategy.
While ASO research and execution processes generally remain similar from project to project, different niches and categories have different levels of competitiveness, and within those niches and categories you have different levels of competitiveness between keywords.
So your marketing strategy will differ depending on the type of app you are marketing. The fundamental principle of ASO is that you need data intelligence to really understand the niche you are targeting and maximise your chance of success.
It can be very difficult to enter a niche or category and rank for the same keywords that top apps have ranked for over many years. To help with this, Mobile Action uncovers areas of search that established competitors may not be so heavily dominant in; the low hanging fruit, as we say.
There's also a similar feature for search ads called Search Ads Intelligence. This does pretty much the same as Keyword Intelligence but for impression share on Apple Search Ads. It tells you how popular the keyword is, the number of apps bidding on that keyword, the chance of you ranking for that keyword and your current rank.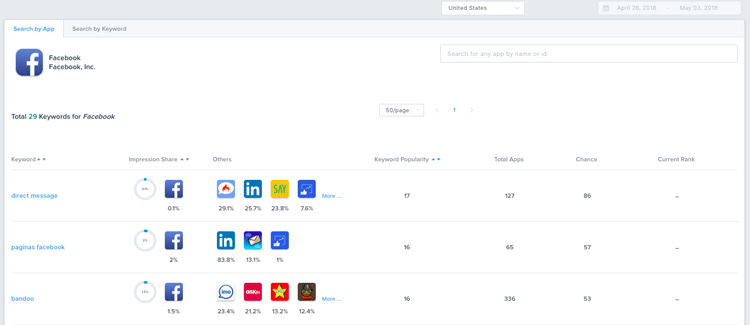 If you are running Apple Search Ads, Mobile Action is certainly a tool worth having; even if just for the ASO Intelligence section. It gives you insight that the Apple Search dashboard doesn't.
For example, you might be bidding on a keyword at $1.50 per tap and barely generating any impressions. The likelihood is that this is a very competitive keyword, but you wouldn't know how many other apps are bidding on it unless you had access to something like the Search Ads Intelligence feature.
The next tool in the navigation menu is App Update Timeline. This is a very simple feature but something you'll find useful from time to time.
Apps are continuously being updated and, while you might be in contact with the development team, it is useful to have a historical reference point that you can access quickly to determine when an update took place. It's quite interesting because you can look back through time and see your old rating count vs. your new one, as well as name changes, description changes and various other bits of data.
Last but not least is the Localization feature. This gives you an overview of your app's current localization status and how well the app is performing in each country.
This can help you uncover effective localisation strategies, as well as help you decide where to localise your app next. It is essentially a combined management tool and opportunity identifier.
For example, you may see that you have a solid number of ratings in China and people there are using your app, but you are yet to localise your title and description. If you are doing a lot of localisation work, then this module keeps everything organised, so that you can see which markets you have covered and those you are yet to target.
Mobile Action: Market Intelligence
While this is very nice to have, if you are working to a budget then it is probably advisable to start with the ASO Intelligence package first and dig out as much gold as you can from there before thinking about moving on to MI.
For high revenue generating apps, Market Intelligence provides essential data for benchmarking your app against competitors.
For example, you can access historical data on download and revenue numbers, and the same for daily active users and monthly active users. You can even dig down into audience geography to see where the users of your competitors are based around the world.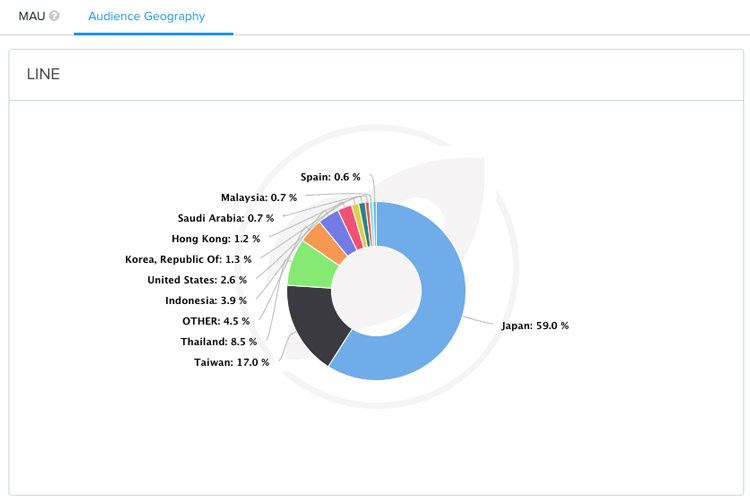 This intelligence digging can be applied to the App Stores too. You can drill down into specific categories and countries and get insight on the total download and revenue numbers for each. This would be really useful if you were launching a new app and undecided on which category to use.
You can go a step further and look at the top downloaded apps of each category, and analyse their download numbers, too. You can see the most downloaded apps for each month for all categories and 25+ countries.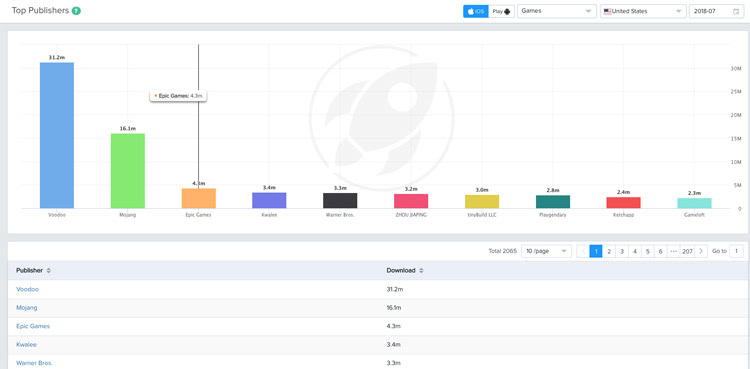 Perhaps you are a games publisher with multiple apps competing against other publishers in your niche; Market Intelligence will let you see which publishers have accumulated the most downloads, and see the monthly downloads of top publishers in each category and country.

Mobile Action: Ad Intelligence
The large majority of app marketers will be running search ads on one network or another, and it pays dividends to know what your competitors are up to. Ad Intelligence lets you see who is running ads on Facebook, Admob, Unity, Vungal, Ironsource, and Apploving.
For me, the most interesting network out of the list is Facebook. Facebook is a huge traffic source with deep targeting options that enable you to dig down and target your archetypal customer. That said, Facebook has become increasingly expensive over the last few years and conversions don't come easily.
For this reason, it is extremely useful to have intel on what works and what doesn't work before you get started.
In fact, thinking about it, the money that you spend on a Mobile Action subscription may actually be offset by the amount of money you can save using Ad Intelligence – because this insight has the ability to reduce budget waste.
Mobile Action lets you see which of your competitors are advertising on Facebook (and the other networks listed above) and what ads they are running.
For example, if your competitors are running a video ad, you can play and see the ad within the dashboard itself. You can see the title and the description they're using, when the ad was first seen and last seen and for how long it has been running for.
You can even see which ad has the highest impression share among all of the ads that the app has been running. As with all the Mobile Action modules, you can use date ranges to see ads run within specific timeframes.
With this type of intelligence, you gain a massive advantage. You already have some idea of the type of ads that convert (probably). If you see that one of your competitors has been running an ad for over a hundred days and it has a very high impression share, then you can pretty much guarantee that it is converting well for them.
It is also a treasure trove for finding ideas for creatives, and to see whether video or static images are converting better for your competitors.
For example, we are currently setting up a Facebook app install campaign for one of our clients. So I dived into the Campaign Analysis on Mobile Action and saw that a key competitor has been running ads for the last couple of hundred days (see the screenshot above).
According to the data, the most successful ad was one using a 10-second video format.This gives us a huge advantage going into our campaign; because we can pretty much safely say that this ad is converting well for them – or at least is showing good promise.
Not only is information like this useful for agencies who regularly present campaign ideas to clients, but it will also help you as an individual validate ideas and decide whether or not they are worth executing.
For example, if you are in a competitive niche and none of your competitors are running ads on a particular platform, then you might assume that running ads on that particular platform simply hasn't worked for them in the past.
Of course it may mean that they simply haven't tried. But it would at least prompt you to approach advertising from a fairly conservative angle, particularly if the competitor has a history of running ads but no history in the last six months.
In Summary
I'm sure you can deduce from this review that Mobile Action has some very useful modules. If you are an independent app marketer with some budget to spend on a good ASO tool, or an agency with a client roster, then this is certainly a platform worth testing.
One thing I would say is that you should analyse your needs before jumping in with both feet. It may be that at present you only need one of the three key modules to achieve your goals. Market Intelligence is certainly for well established publishers with high grossing apps, and Ad Intelligence is only worth paying for if you are currently running ads.
If you are new to marketing and app store optimisation in general then there is going to be a big learning curve and you don't want to burden yourself with too much learning in one hit. In this case, perhaps start with the App Intelligence module first and master an understanding of that before moving onto ASO Intelligence.
This is certainly a platform that could be shared among a marketing team, including junior people that don't have much experience using analytics and intelligence platforms.
It's very user friendly. Each section has a helpful scroll over menu that offers a concise description of what a particular function does. Within two or three hours you will feel confident enough to use it on a daily basis.
There's a free trial which gives you one week's access to all premium features, so do take advantage of that.
Thumbs up.