According to Criteo's Q2 Mobile Commerce Report, which analysed 1.4 billion ecommerce transactions from more than 3,000 online retail and travel businesses globally, 54 percent of mobile transactions in the US came from smartphones.
iPhones made up 66 percent of smartphone transactions, up from 61 percent over the previous two quarters.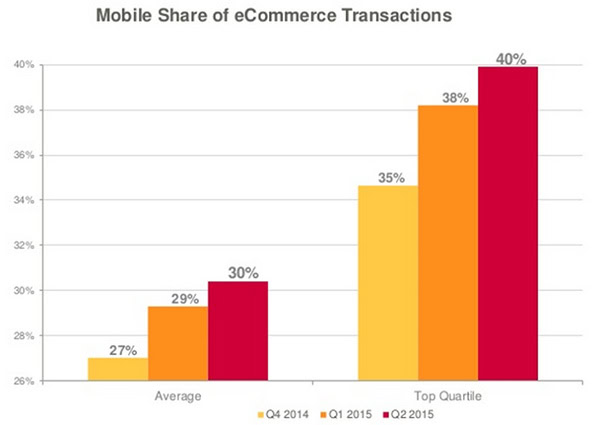 So what's driving this exponential mobile growth?
In a nutshell, it's us. We are busier than ever, and increasingly leveraging mobile technology to support our demanding lives. It is this demand that has consequently led us to better trust mobile technology, to the point where we're comfortable buying high-end retail products and booking expensive flight tickets and hotels on the go.
Of course, bigger screens and faster connections have been a massive facilitator in mobile growth over the past two years, but ultimately the market is steered by consumer demand for faster, more convenient ways to shop on mobile.
Unsurprisingly, the report shows that mobile-optimized sites convert at more than double the rate of non-optimized sites. Sites that are optimized for mobile see a 3.4 percent conversion rate, whereas non-optimized sites convert just 1.6 percent of consumers.
Apps Account for Almost Half of Mobile Transactions [for the big players]
The report shows that top retailer apps account for nearly half of mobile transactions for some of the largest ecommerce players who have made their app experience a priority, due to much higher conversion rates than mobile browser or desktop.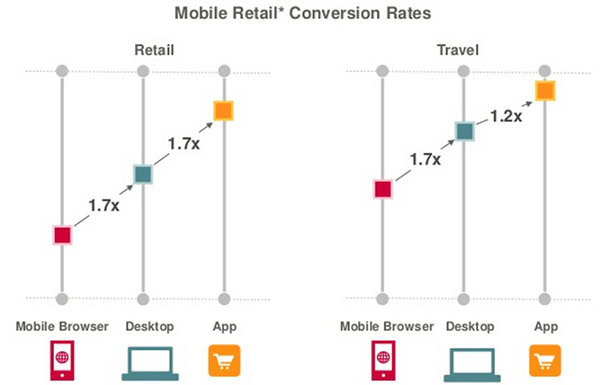 The report also produced some interesting statistics on cross-device purchasing behaviour, with 40 percent of ecommerce transactions now involving more than one device. However, the percentage of transactions that start on a smartphone and end on a tablet or desktop (33 percent) is almost the same as those that start on desktop and end on a smartphone or tablet (29 percent).
Consumer adoption of mobile continues to be the biggest trend in both ecommerce and advertising today, and the pace of growth remains astounding," said Jonathan Wolf, Chief Product Officer, Criteo. "Marketers' ability to leverage new technologies to accurately identify and reach consumers wherever they are is going to become critical as this trend continues towards a world where the majority of transactions will take place across multiple devices.
Whether app or mobile site, the onus is on ecommerce brands to deliver a fast, intuitive, effortless mobile shopping experience, with no room for sluggishness, poor navigation or superfluous process steps.
What Does the Future Look Like?
mCommerce growth is unstoppable. By year end, mobile share of eCommerce transactions is forecast to reach 33% in the U.S. and 40% globally. Smartphones will continue to displace slower-growing tablets due to larger available screens such as that of the iPhone 6 Plus. Apps will continue to grow too, as advertisers increase their invested in as a way to drive more conversions than desktop and better engage with their loyal customers.
Key Report Tweetables:
U.S. mobile transactions cross 30% share: And it's much higher for top-quartile retailers.
Retailers who optimize their mobile sites generate many more mobile transactions than those who don't.
Optimized sites have a better conversion funnel at every stage.
Consumer mobile behavior continues to advance faster than retailers' ability to keep up.
Apps generated almost 50% of mobile transactions for retailers who have made their app experience a priority.
Mobile apps perform better than any other channel, including desktop.
Cross-device usage is now enormous: Consumer use of multiple devices to make a single purchase makes up 40% of eCommerce transactions.
You can download the full Criteo Q2 report here.