Optimize your cost per install campaigns with Facebook App Event Optimization. Turn your app leads into loyal, paying users & increase purchase value by 32%.
I often liken Cost Per Install (CPI) to buying shares in a start-up company: no matter how promising the numbers look on paper, there's no guarantee that the investment will pay off.
The thing is, when it comes to CPI campaigns, we have a tendency to let ourselves be wooed by pretty numbers rather than looking at the bigger picture, which should always be LTV (Lifetime Value). We have a desire to see a low CPI that influences us to disregard the true value of each install.
For example, acquiring 1,000 installs from a Facebook install campaign at $1 a pop looks great on paper, and the very idea that you can pay just $1 to on-board users that love your app is very exciting.
But the reality is that only a fraction of those installers will become loyal users — just how many depends on how transparent your advertising was, and how effective your on-boarding funnel is at quickly helping people understand how to use your app, find what they are looking for and get great value from its features.
5 Reasons People Install Your App But Don't Engage
The large majority of installers will drop off the radar, almost immediately, due to one of 5 things:
The user installed the app and forgot about it. The icon simply got lost amidst the other 100 icons on the their phone.
The user opened the app, couldn't work out how to get started, got frustrated and deleted it.
The app didn't do what the user expected it to do.
The user didn't like the look of the app.
The user didn't like being asked to upgrade to premium, buy credits, or make an order so soon after installing.
The truth is there are probably 50 or more reasons users install and then uninstall or become dormant, and it's impossible to please everyone or account for every eventuality.
This isn't just hearsay either. Statistics show that on average, 30 days after installing an app, only 6% of people are still using it. With smart lifecycle marketing these numbers can be greatly improved, but for less experienced marketers the numbers look bleak.
Out of your spend on a Facebook CPI campaign, you are likely to see less than 6% of those installers become loyal users within 30 days. On those stats, it's easy to understand how so much money gets wasted on app campaign marketing. But not for much longer…
Enter Facebook's App Event Optimization Targeting
The good news is that Facebook, arguably the best ad platform to drive app installs, has come up with a solution called App Event Optimization.
App event optimization gives you the power to show mobile app install ads to those most likely to take a specific action in your app, based on similar behaviors they have exhibited across other apps.
For example, if you want people to install who are most likely to purchase an item within your app, you would choose to run mobile app install ads that would optimize for the Purchase event. Or, you might choose to go broader and target those who likely to Add to Cart.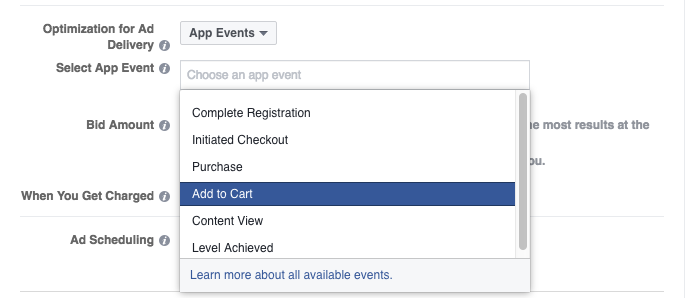 How to Set up Facebook App Event Optimization
This feature is available in the Power Editor tool or via the API. After selecting your optimization goal, you can then select to optimize for app events, which presents you with a list of 14 standard app events. Just choose the one that you want to optimize for and Facebook's intelligent algorithm will do the rest.
The 14 App Event Optimization Events
Here is the list of events you can choose to optimize for:
Achieved Level
App Launched
Added Payment Info
Added to Cart
Added to Wishlist
Complete Registration
Completed Tutorial
Initiated Checkout
Purchased
Rated
Searched
Spent Credits
Unlocked Achievement
Viewed Content
How App Event Optimization is Charged
In a similar way to how you are charged for standard installs, App Event Optimization is charged on an impression basis but with one key difference: your ads will reach people most likely to take the action you specify in your targeting, not just the ones most likely to install your app, as has previously been the case.
How Well Does App Event Optimization Work?
As with any ad format, it will take some testing to get the most out of it. To get started, our advice is to sit down and consider the events most valuable to your business model, then pick the two most important and run an A-B test for each to see which ad gives you the best results.
Bear in mind that measuring success won't be possible immediately. You will need to wait until each user has gone through your on-boarding funnel and taken the action (event) you optimized for to determine value. Consider that CPI will typically be higher, but if you previously tracked your CPA (cost per acquisition), you will probably find it to be lower in the long run because you will be attracting fewer but more valuable users
That said, if you're looking for some evidence that this might work for you before getting started, look no further that clothing resale marketplace Poshmark, who claim that Facebook Event Optimization helped them find users who were more likely to make purchases. This decreased their cost per event by 24%!
In addition, Smule – a music app company– said that Facebook App Event Optimization improved its cost per purchase by 32%, and its revenue per user by 22%.
In Summary
Historically, standard app install campaigns on Facebook have been a shot in the dark. Sure, the targeting is pretty good but to a degree it has been hit and hope. Based on the demographics you choose, the targeting has been on a broad reach basis that casts a net over anyone likely to install your app, or pretty much any other. This reach includes those people who never purchase, never upgrade, and even those who rarely use apps but just install them for the sake of it.
In this regard, Facebook's App Event Optimization tool is a blessing. It helps you acquire users who are likely to take a specific action that is of value to your business, be it make a purchase or simply view a piece of content.
Now you have the power to literally reach those users most likely to engage with your app in the way you want them to.